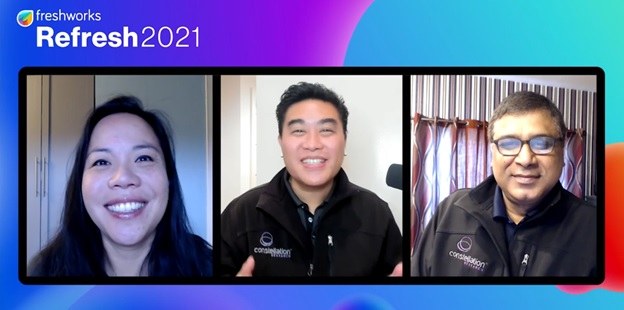 An up-close and personal view of Fresh conference Refresh 2021
I was fortunate enough to be invited to attend and speak at the Refresh 2021 conference in Las Vegas earlier this month. For those who don't know Freshworks, they are a recently public company (Symbol: FRSH) that provides SaaS solutions in the Sales, Marketing, CRM, HR, and IT helpdesk/service areas
My first thought, for a change, Vegas has implemented a mask mandate policy in casinos (gasp!). Every conference venue now conducts vaccination validation and demands a negative Covid test onsite. While the town is back in demand and bustling with crowds, it is good to see these precautions as the covid doesn't seem to be going away any time soon.
At the conference itself, a few things stood out to me. Freshworks touted their ease of use, the total cost of ownership (TCO), return on investment (ROI), and scaling IT with business as their main differentiators. I am actually in the middle of reviewing the Incident Management, ITSM, ITOM vendors currently, and will let you know how they stack up against the competition. But, from what I saw at the conference, it is compelling enough to include them in your evaluation process.
Delivering on Delight
As with most technical conferences, this hybrid conference was well attended virtually with about 20k people joining globally, and with about 200+ in person. The theme of this conference was "delight." The entire line-up, keynotes, panels, and breakout sessions were all centered around how do you delight your customer.
The day started with Stanford Neuroscientist David Eagleman (a Pulitzer nominee) talking about the science of delight. He pointed out that the human brain has 86 billion neurons with 100s of trillions of connections between them. While the delight happens at the neuron level, you can't control it, but you can feel it, live it, enjoy it! According to him, while it is the conscious brain that makes the decisions, the unconscious brain decides based on the delightfulness of something that is underlying whether it is selecting a partner, a job, a car or a house, etc. A lot of times, the conscious mind messes up by overriding proper decisions made by the unconscious mind according to him. In other words, overthinking at times will only mess things up. You want things to be automated for decision making, fixing, etc. as most times the decisions made and executed by unconscious or automated systems are better than what collaborative thinking can result in.
Everything that is happening in cognition is happening incognito. Decision making such as choosing Pepsi vs Coke, or other decisions of branding decisions are all done incognito. A compelling example is when a charger is priced at $19 vs $29 (a $10 diff) we would be willing to walk a mile to save that $10, but whereas when you buy an iPhone that is $567, we are not willing to walk a few steps to save that $10. The way we make decisions is not rational, but it is based on context – valuing things when they are in different valuation metrics is hard to choose according to him.
More than the price itself, the customer experience, and the context surrounding that sets the value of pricing are more important. The decisions are made based on delighting the customer, it is based on emotions. Total value is much more than just the price or a total cost of ownership, it is based on connected customer experience and the delight that goes with it, according to David.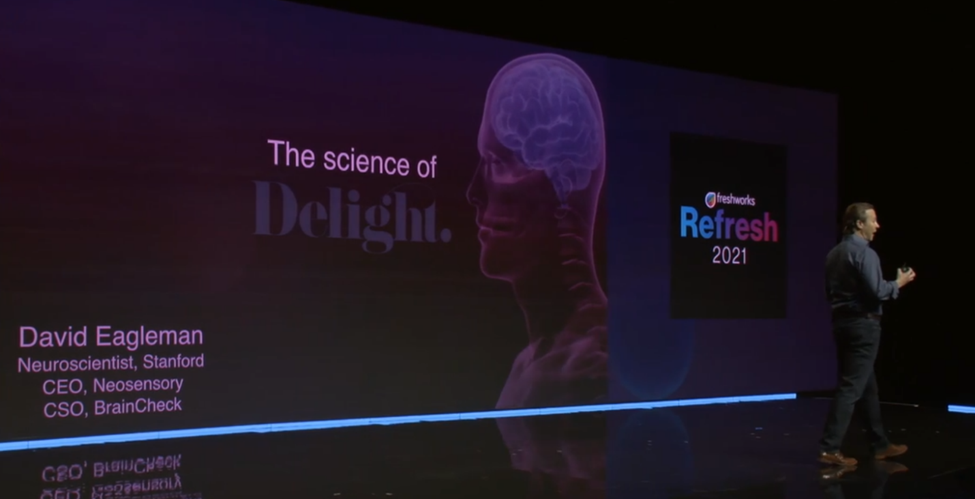 Girish Carries Forward Humility in All He Does
After David spoke, Founder and CEO Girish took to the stage. I have always admired Girish as he came from humble beginnings. I had a chance to chat with him a little bit when he had a moment.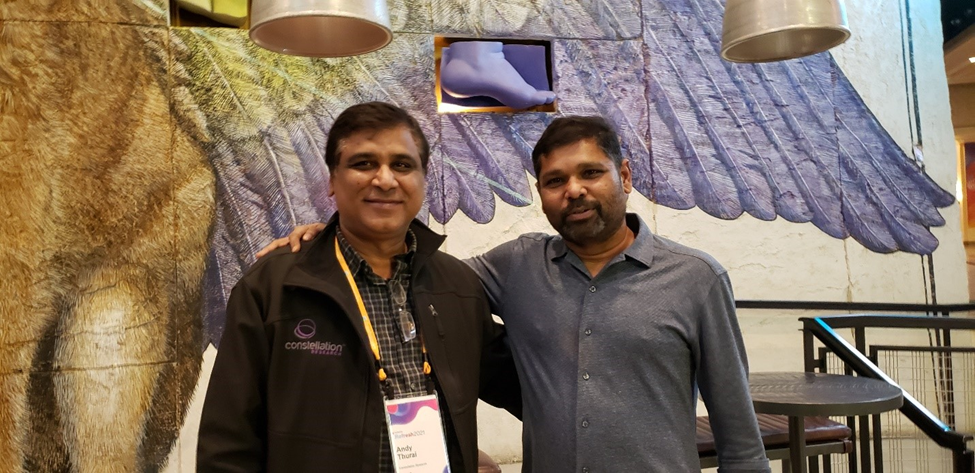 The thing Girish pointed out was that customer wants "easy." He went on to talk about his experience in dealing with a vendor about replacing a brand-new TV broken in transit and how long it took to replace it even though it was under warranty and the customer experience that went with it. Painful!
He boldly claimed that the first generation of SaaS providers failed. He claimed they focused on re-platforming and reducing technology debt but failed on delivering customer experience. I agree with this thought, though disagree that all of them have failed. He started FreshWorks with a "fresh" view to provide those customer experience and usability in mind. He said he wanted to build something that will be easy about using the software right away instead of waiting for 18 months – the art of delight. You can't argue that.
He said Freshworks was built on five core principles – Modern, Unified, Salable, Intuitive, and Cost-effective – as table stakes and that is MUSIC to customer's ears. I liked the wordplay there!
At the end of the day, it is not just customer satisfaction but the customer experience that goes with it that matters more. In other words, it is not just the end result that matters, but the path to reach it – products and services should delight the customers and not leave them with a painful experience. A real boost in loyalty comes from reducing overall effort or reducing friction in doing business with you.
Freshworks also showed a persona-based live demo on-stage that was compelling. A combination of bots, automation, the collaboration between customer service, IT, warranty, finance, returns to solve an issue in a short time frame was powerful. They chose to demo a fictitious shoe company with a manufacturing defect and how teams can collaboratively handle the issue and take the customer experience to the next level.
The burden on IT is higher than ever to run the business with the remote workforce. Especially with customers used to the delightful experience of consumerization experience of B2C companies, providing an old, clunky, outdated user experience will hurt more than help your business, particularly the online engagement with customers at the channel of their choice.
Girish also said, "Marketing is not about spamming millions of customers with a generic email anymore. It is about sending each customer a highly personalized, individualized offer based on their needs, desire, and timing, and the digital channel of their choice" which I completely agree with.
Amy Purdy Delivers Stories of Personal Triumph
It would be remiss of me if I failed to mention the most compelling closing keynote that I have ever seen. Amy Purdy, a 3x paralympic medalist, talks about how she went from an Olympic-level snowboarder to the brink of death and came back alive again. She talked about turning any challenge into an opportunity by defying all odds. If you are passionate, you can do it! I won't do justice by narrating her story. You can watch it in its entirety here. https://web.cvent.com/hub/events/52b42838-fdea-4731-b8fd-51c212b052b5/sessions/88c63436-e43c-4c1c-adef-35f7efc2b240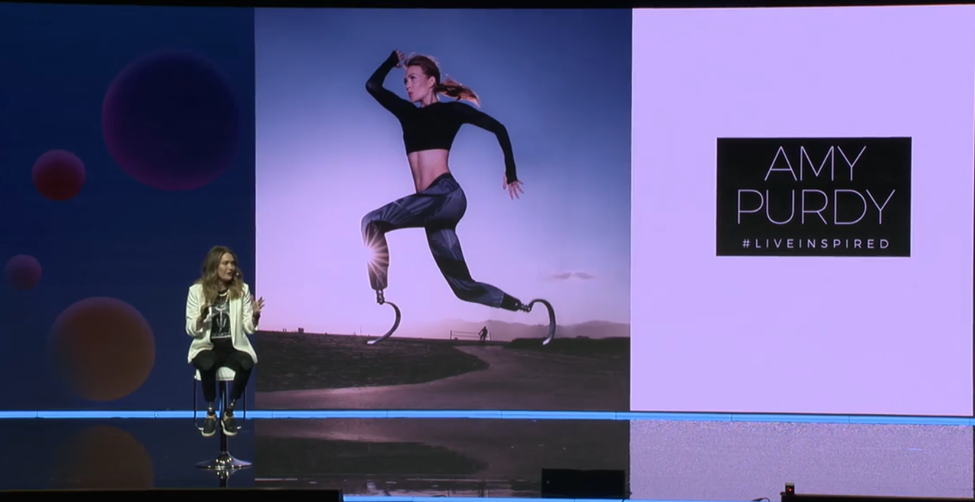 Freshworks Platform Delivers on New ITSM/ISOM Capabilities
And finally, my favorite segment – ITSM, ITOM capabilities. They demonstrated the platform on how a business can move instead of being reactive to incidents to being proactive. While they are getting into the crowded AIOps market (I track about 50+ vendors in this space), the correlation engine from multiple monitoring solutions, AI sensing a shopping cart problem and create an auto incident instead of customer/support initiated ticket, ML-powered ticket routing and assignment, figuring out the actual underlying issue, the urgency of it, escalating it to the right person to solve the issue, and thus enabling a faster time to resolution resulting in enhanced customer experience are all making sense in connecting business with IT.
The persona-based demo involved Freddy the AI sensing the customer Phoebe having difficulty in completing the order, and figuring out the underlying issue, creating an auto ticket, routing it, NOC agent Pollack sensing that issue, and collaborating with Ash the on-call full-stack engineer to roll back the updates, and Leslie the CSR finally updating the customer to buy it again. While of course it was staged, it was pretty compelling to see the business and technology come together to support each other. I would love to see that with my vendors, but it feels like the below ?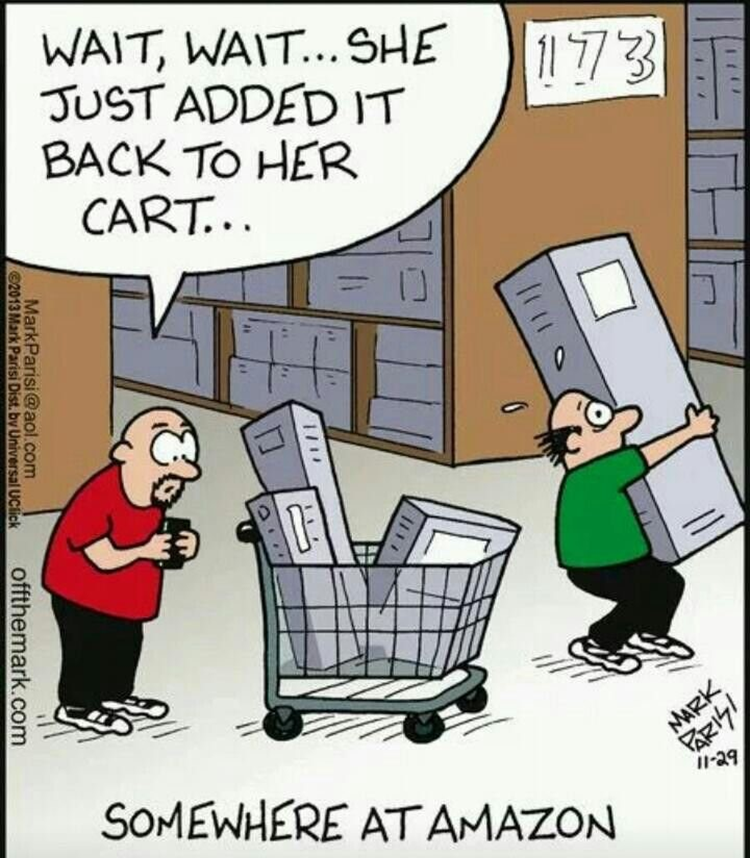 [Pic Courtesy: Mark Parisi]
And I can't close this without mentioning my talk at the conference. I went head-on with the legendary Ray Wang discussing ITSM vs DevOps. I have battle scars to prove it! I think it was a great discussion which can be viewed at the following link (registration required).
https://web.cvent.com/hub/events/52b42838-fdea-4731-b8fd-51c212b052b5/sessions/9c8336c4-f912-4bab-aeb6-62d55723fbea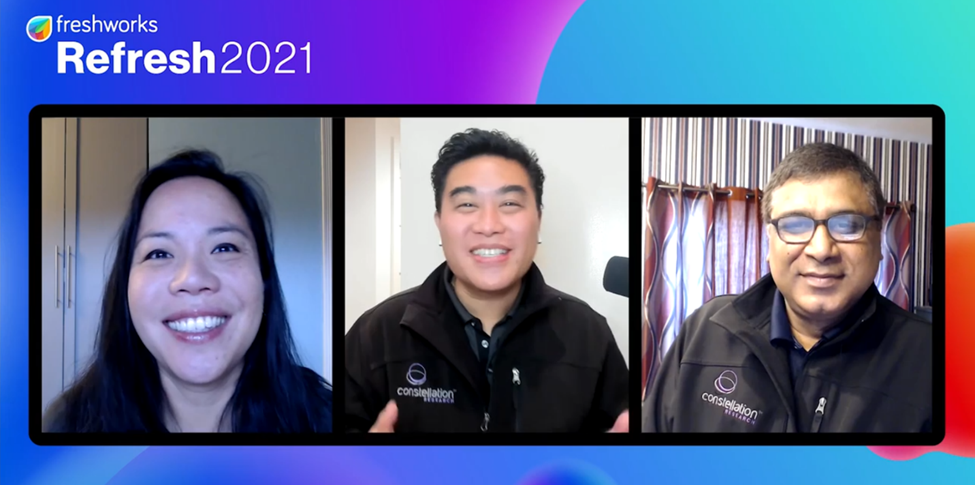 THE BOTTOM LINE: WHAT DOES THIS ALL MEAN?
Freshworks has a set of new offerings that goes end to end – whether it is combining marketing to sales to delight the customer, or tracing eCommerce problems from point of sale to the affected underlying services directly to help with troubleshooting to delight customers and employees – the offerings go from business side to IT side to make the connection easy.
Incident Management is an important, yet forgotten art, in the cloud era. Even smaller incidents can affect customer experience and brand value. A clunky, intermittent, hard to use system can drive customers quickly away regardless of the pricing and availability of goods.
The customer delight came through in my discussion with some of their top customers at the conference. While cost is a factor in selecting Freshworks, they also score high on usability, customer experience, and faster innovation – according to them.
Scaling IT with business is more important than ever. If your IT can't sustain the hyper-growth of your business, as and when needed, the game is over.
Connected customer/employee experience is more important than ever.
I am currently reviewing 11 vendors for my market overview research on Incident Management and FreshWorks is one of them. More details on my research can be found at the following links:
For a Constellation ShortList™ on incident management, see: Andy Thurai, "Constellation ShortList Incident Management," August 18, 2021.
For more on digital incident management, see: Andy Thurai, "Crisis/Incident Management in the Digital Era," Constellation Research, September 22, 2021.
Andy Thurai, "2022 Trends in Site Reliability Engineering," Constellation Research, October 2021.
Andy Thurai, "2022 Trends in Incident Management," Constellation Research, October 2021.
For a Constellation ShortList™ on AIOps, see: Andy Thurai, "Constellation ShortList AIOps," August 18, 2021.